Design your Startup Pitch Deck
and Fundraising Strategy
"Most good investor presentations can be done in 10 slides or fewer." - Venture Deals by Brad Feld
Let's put together your fundraising strategy and pitch deck for you to successfully raise the next round for your startup. 💰
We will cover the following items:
Identify your startup stage and next milestones 📈
Determine how much capital you need to raise to reach your next milestones in 18-24 months, and your use of funds 🧮
Put together a winning pitch 🏆
Determine your best-fit investors 🤝🏻
Is your company a small business or a startup?
---
Before we discuss pitching and fundraising, it is important to understand if our company is a small business or a startup.
A small business typically includes service businesses, caters to the local economy and are generally family-owned businesses. Small business founders generally raise financing from family, friends, foundations, banks, revenue-share funds and crowdfunding.
An innovation driven enterprise or startup typically involves solving a problem with a new solution or business model, driven by a competitive advantage and requires raising external financing. The overall target addressable market (TAM) of a startup is typically greater than $1bn even if the current TAM is smaller. Early-stage startups typically raise financing from family, friends, foundations, angels, seed venture capital funds, revenue-share funds and equity crowdfunding.

Identify your startup stage and next milestones
---
Let's apply Village Capital's VIRAL framework using the Abaca tool to benchmark our progress and clearly communicate our startup's stage, milestones and metrics with stakeholders.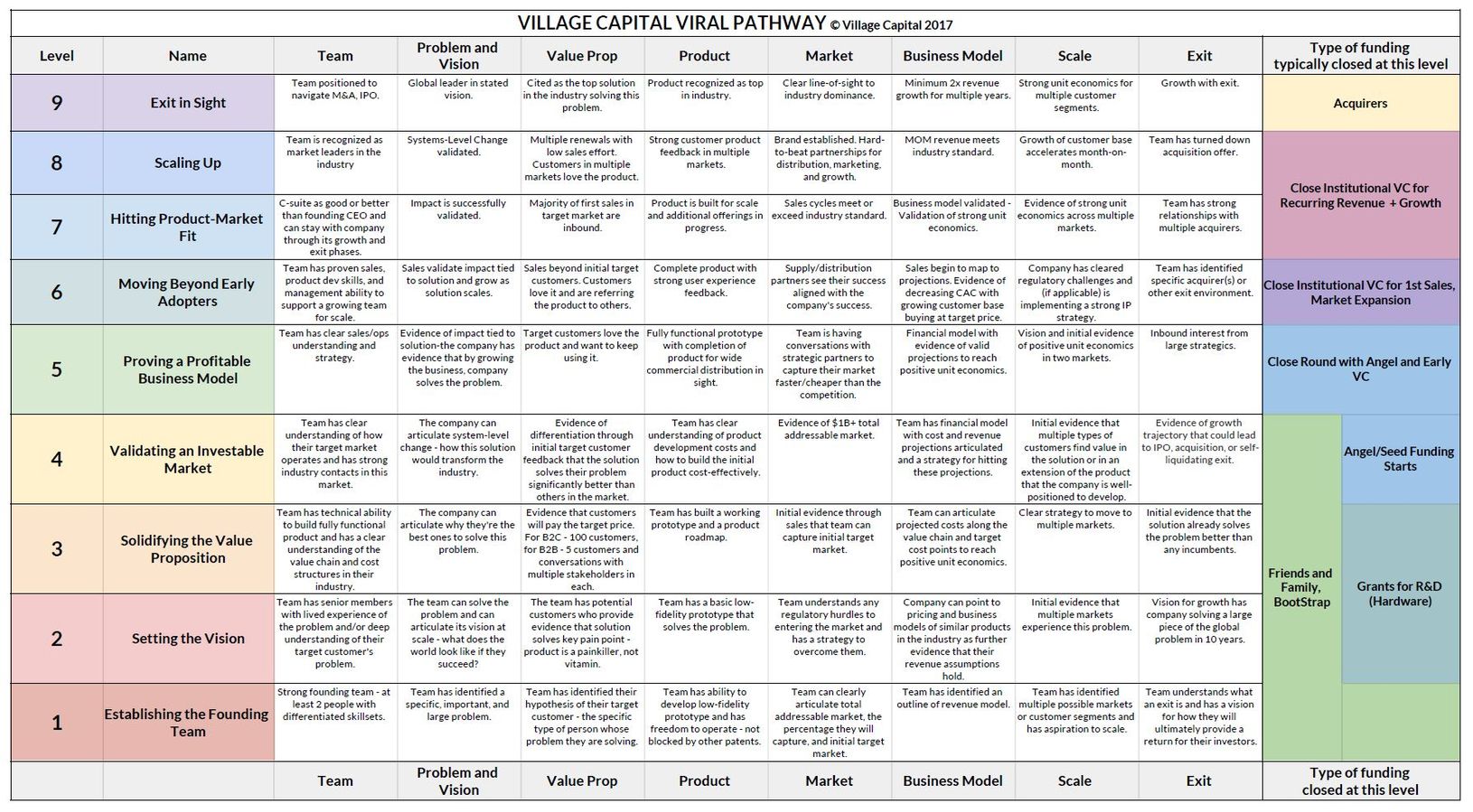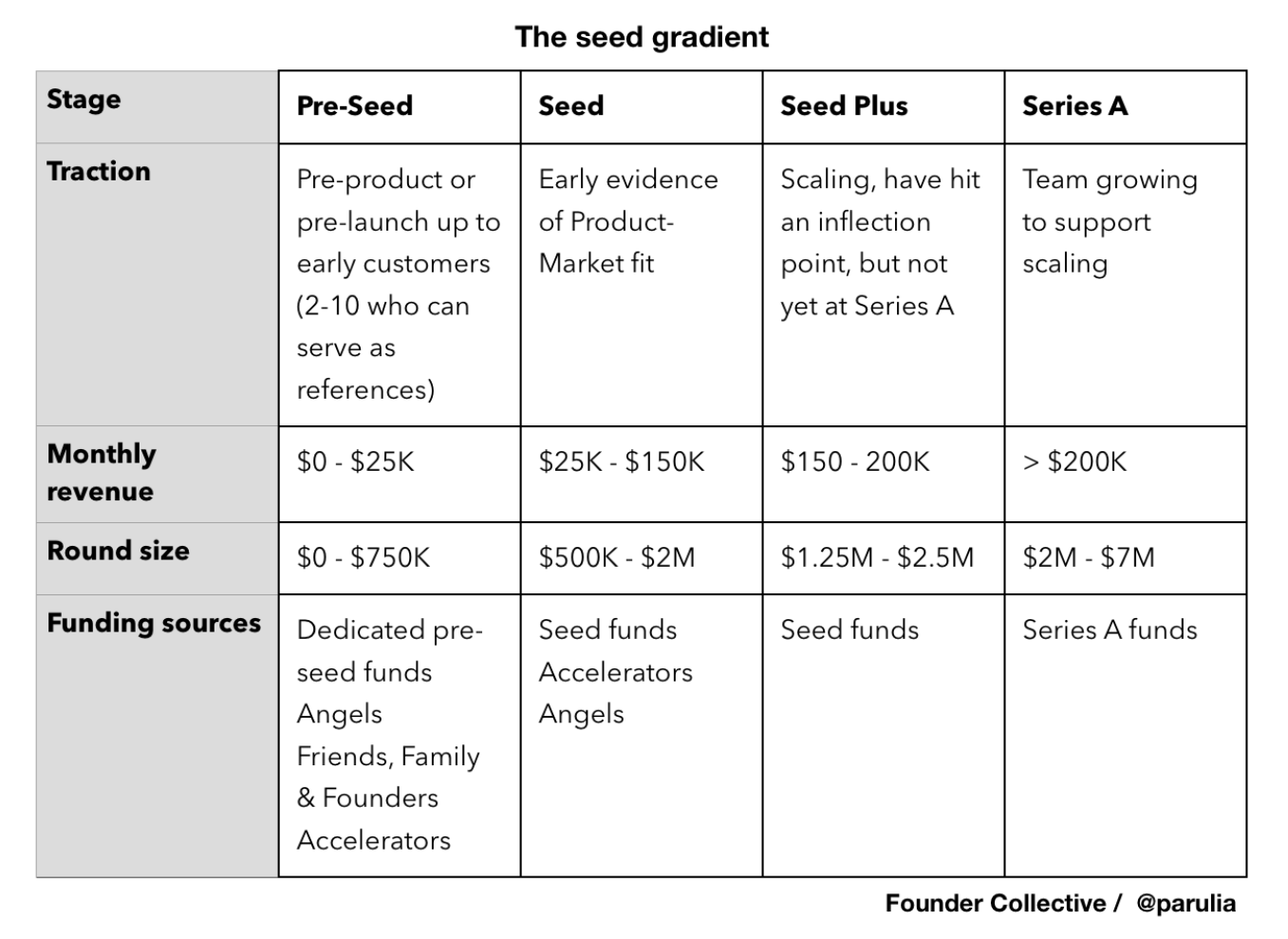 How much capital do you need to fundraise?
---
Next, let's determine how much capital you need to raise to meet the milestones to get to our next fundraising stage. Ideally, you'd raise capital for 24 months and plan to hit your milestones in 12-18 months.
For example, let's assume you are raising a pre-seed round with a current monthly revenue of $10K. Your next milestone is to achieve a monthly revenue of $50K in 18 months. You intend to grow your team and increase your marketing budget for a burn rate (or net expenditure) of about $20K per month.
Hence, you'd need to raise $480K ($20K * 24 months) for a 2 year runway with the intention of achieving your goal in 12-18 months.

At the pre-seed and seed stage, startups typically give up 10-20% of equity for each round. Depending on market conditions, the strength of the team and early traction, you may be able to raise the $500K and give up 10% equity for a post-money valuation of $5mm ($500k / 10%).

Raising funds at a lower valuation may open up opportunities for founders and the investor to make money from a small exit.
While raising at a higher valuation means lower equity dilution for more funds in the short term, it may prevent founders from exiting at a small valuation because investors didn't get the desired return (they invested at a higher valuation).
Check out Founder Collective's blog post on 'How taking less capital & a lower valuation can make you rich!' and '50 Big Companies that Started with Little or No Money'.
What to include in your fundraising ask?
Funding amount

Milestones (including revenue) to be achieved in 12-18 months

Use of funds
Design your startup pitch deck
---
Next, design your pitch deck to share your story and raise funds.
We recommend covering the following items:
Strategic narrative

Explain the customer's pain points and market opportunity

Show and tell the solution

Business model and go-to-market strategy

Competitive positioning

Social impact

Team

Funding and traction till date

Next steps

The Ask
What makes a great pitch?
Suraj Kripalani
Suraj Kripalani, Co-Founder at BonBillo, discusses what makes a great pitch and shares examples.
Identify your best-fit investors
---
Your best-fit investors are investors who invest who match the following attributes:
Jenny Fielding, Managing Partner at the Fund, a community-driven venture capital firm, recommends building an Investor Pipeline Spreadsheet to keep your funding flowing. Check out Jenny's step-by-step process and template to build your Investor Pipeline. 📝

The following websites can help you find your best-fit investors for your Investor Pipeline.
Alternative funding models have been gaining in popularity and have provided founders additional options to find their best-fit investment.
Equity crowdfunding is an option to raise early-stage capital to hit initial milestones before raising a seed round. Here are some popular equity-crowdfunding sites:
Revenue-based financing from platforms such as Pipe are also an option for founders looking to achieve sustainable growth without equity dilution.
Finally, check out the following resources to incorporate your startup and set up your data room before fundraising.
Recommended Books & Blogs