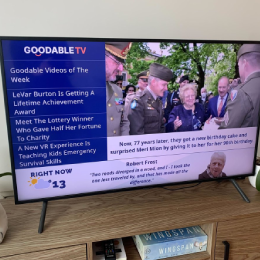 June 2022 - Goodable TV to be broadcast in 20 countries
We're excited to share our Social Entrepreneurship Bootcamp's improved pricing of $799. We are offering university packages and scholarships of up to 40% to make the program more accessible based on your feedback. 🎉
We're now accepting applications for the next cohort of our Social Entrepreneurship Online Bootcamp that runs from September 21st to December 7th, 2022. Startup founders and teams learn to apply a proven entrepreneurship framework, receive expert mentorship, build alongside a community of mission-driven entrepreneurs and get $50K in partner benefits.
As a reminder, BonBillo is an accelerator for startups contributing towards the U.N. Sustainable Development Goals. We provide structured training programs with mentorship, tools, and networks to help founders grow their social impact startups.


BonBillo Impact Jobs Board
🚀

Vincere Health | VP of Product

Vincere Health, a behavioral health and smoking cessation platform for underserved low-income populations, is looking for a VP of Product. 🚭💪🏻

Join their team to help bring better health to the most vulnerable people in America.

GreenChoice | Product Designer & Growth Marketer

Do you want to be a part of the first climate-positive grocery marketplace? 🥗 🛒 ♻️

GreenChoice, a grocery marketplace for conscious consumers with dietary needs, is looking for a Product Designer and a Growth Marketer to take their online marketplace to the next level.

Scroobious | Technical Lead

Scroobious, a platform helping diverse founders create video pitches for fundraising, is looking for a talented Technical Lead. 🎥

Join their small yet mighty team as a core player with direct influence over the company's direction.
Check out key takeaways and watch highlights of our founder and innovator stories on the BonBillo Blog.

Thank you to Allison Byers and Cyrus Sabouri for sharing your journeys! 🎉
Allison Byers founded Scroobious to help diverse founders fundraise by training them on creating pitch videos and connecting them to relevant investors.

Product Leader | Cyrus Sabouri

Cyrus Sabouri, Vice President at Mastercard, believes that the future of payments includes using biometrics tokenization and the ubiquity of mobile devices to conduct commerce.
Upcoming Partner Events
🎉

We recommend founders join HubSpot's events on driving startup growth through economic uncertainty and automating your sales workflow.
HubSpot Workflow Automation for Sales | 21st June, 2PM EDT
In this workshop, you'll learn how to implement automation in your sales process to enable sales reps to spend less time on menial tasks, and more time selling. You'll then create workflows based on your learnings in a practical exercise.
How to Drive Startup Growth Through Economic Uncertainty | 27th June, 4PM EDT
Concerned about how economic uncertainty may affect your startup? Join industry veterans Kipp Bodnar (Chief Marketing Officer, HubSpot) and Brad Coffey (Chief Customer Officer, Pipe; Former CSO, HubSpot) as they dive into how founders can safeguard their startups during a recession and take calculated risks to extend their runway.


Congrats to BonBillo alumni and community members on their wins 🏆


| | | |
| --- | --- | --- |
| Couplet Coffee, the LGBTQ+ and woman-led lifestyle brand that aims to make specialty coffee less pretentious and more fun, announced its partnership with Foxtrot. The emerging progressive coffee brand is now available across all 20 Foxtrot locations alongside a curated selection of local favorites and the most exciting brands. | | Gabe Tavas, Founder at Symmetry Wood, was selected as the recipient of the $10,000 Fiddler Innovation Fellowship for developing a sustainable wood alternative to combat deforestation. Symmetry Wood has also been accepted into iVenture, University of Illinois' summer startup accelerator with another $10,000 in funding and mentorship. |
| | | |
| Vincere Health Vincere Health, a smoking cessation and behavioral health platform for underserved populations, was selected as the Pitch Perfect winner in the Care Coordination and Value-based Care tracks at the MedCity INVEST Conference in Chicago. | | Goodable, the world's first company that uses the power of news to improve your mental health, and Raydiant, the leading in-location experience management platform, are excited to announce a new partnership that will see Goodable TV available to broadcast to thousands of locations around the world. |
| | | |
Share with friends and colleagues!

Do you know someone who should be part of the BonBillo community?
Please share with friends and colleagues interested in social impact startups and our upcoming programs. They can sign up to receive our newsletter on the BonBillo website.
Thank you for your support!
Cheers,
The BonBillo Team