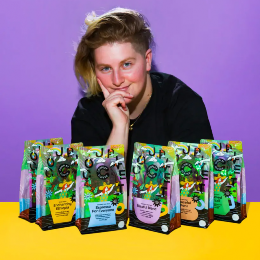 February 2022 - Couplet Coffee launches its direct-to-consumer website
We're delighted to welcome our Social Entrepreneurship Bootcamp Spring 2022 cohort including the University of Illinois Urbana-Champaign's Impact Incubator teams! 🎉
Applications for our Social Entrepreneurship Bootcamp running from June 1st to July 27th are now open. Startup founders and teams learn to apply a proven entrepreneurship framework, receive expert mentorship and build alongside a community of mission-driven entrepreneurs. 🚀
As a reminder, BonBillo is an accelerator for startups contributing to the U.N. Sustainable Development Goals. We provide structured training programs with mentorship, tools and networks to help founders grow their social impact startups.
Congrats to the teams selected for our Social Entrepreneurship Bootcamp Spring 2022


Freight Tiger is India's largest software-enabled digital freight network helping improve visibility, harness efficiencies, and reduce waste.

Inverkids provides financial education for young people in Mexico with a digital platform that is integrated with the school curriculum.
Rose Nolan is building an online musical storytelling adventure that places individual listeners in the main protagonist roles.
ESGO creates shows focused on Environmental, Social, and Corporate Governance initiatives with engaging content production teams and media.

A

shley Masengale is building an organization dedicated to increasing higher educational attainment for first-generation, low-income, and students of color through mentorship & financial aid in Illinois.
Jeevatva is a waste management company that tackles the problem of waste in North India in an environmentally sustainable manner.
Chai puts people of color at the center of every story they create.
Degrade-a-Pad is a sustainable and environmentally friendly menstrual pad innovation made of biodegradable plastic.
Big Picture Camp helps students with dyslexia gain access to teaching in reading, math, and writing in ways they can optimally learn.
GarboCarbo is an efficient and scalable carbon technology for coal-fired power plants in the United States as they are mandated to become net zero in the future.
Miniature Horse Power is a prize-winning innovation that seeks to facilitate miniature equine-assisted therapy while promoting research of therapy modalities to enhance its clinical efficacy.
Purple Cloud provides simplified supply chain solutions using autonomous drones and robots.
LASE (Laboratory of Acoustic & Soundscape Ecologies) equips conservation with low-cost, non-invasive data collection devices.
ScribEd is a tool to help English language learners improve spoken English skills and confidence through personalized feedback and activities.

Check out key takeaways and highlights of our founder stories on the BonBillo blog

Thank you to Galen Marlon-Mason, Dan Wexler, Kevin Hall, Ana Gastélum, and Cullen Schwarz for sharing your journeys!


EatWell | Dan Wexler & Kevin Hall

EatWell delivers meal kits, complete with simple recipes and fresh ingredients. By partnering with health providers to prescribe meal kits for patients, they prevent chronic diseases and reduce healthcare costs.

GreenChoice | Galen Karlan-Mason

Galen had allergies growing up, and discovered that shopping for healthy groceries keeping his environmental impact in mind meant that he was destined to read every ingredient list! He decided there was a better way which led to GreenChoice, enabling users to find and buy food products based on their dietary preferences and values.

Social Impact Journey I Ana Gastélum

Ana Gastélum Dourritzague shares her journey from co-founding Medilinx, a telehealth startup, to helping build Latin America's impact ecosystem at New Ventures. She has since recently joined as Head of Impact at Bankaya, a fintech startup in Mexico focused on expanding financial and digital inclusion.

Cullen Schwarz shares his journey co-founding DoneGood, an online marketplace that enables people to shop ethically and sustainably. While at Western Michigan University, Cullen was a member of a campus organization that worked to establish a code of conduct in the university's apparel contracts. This is when Cullen was really exposed to the power of consumerism to create social change.
Congrats to BonBillo alumni and community members on their wins 🏆
ParkUpp, the parking proptech startup that connects owners of parking spaces with companies and individuals who need parking has been acquired by real estate investment company Docklands Ventures.

The ParkUpp team will continue to build its new startup Troob: an Airbnb-like platform for art galleries, photo studios and film sets set to launch in New York in 2022.

Couplet Coffee, the LGBTQ+ and woman-led lifestyle brand that aims to make specialty coffee less pretentious and more fun, wacky, and community-focused, announced the launch of CoupletCoffee.com. Shoppers can now order an assortment of coffee, merch and product drops from its direct-to-consumer website.

The Institute of Food Technologists announced EatWell as a seed grant winner in the inaugural Seeding The Future Global Food System Challenge, which seeks to create game-changing innovations that will help transform the food system.

Vincere Health, a behavioral health and smoking cessation platform for underserved low-income populations, helped to bring better health and innovation to the most vulnerable people in America in the past year.
Share with friends and colleagues!

Do you know someone who should be part of the BonBillo community?
Please share with friends and colleagues interested in social impact startups and our upcoming programs. They can sign up to receive our newsletter on the BonBillo website.
Thank you for your support!
Cheers,
The BonBillo Team